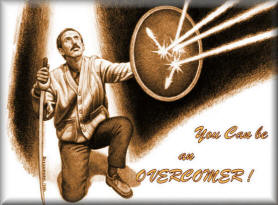 This can be your experience —
A Special Walk with God

An ongoing closeness to God is a sweet, comforting experience. This book will help you understand how to claim it more fully for your own.
The following words will be yours:
——————————————————
If you have given yourself to God, to do His work, you have no need to be anxious for tomorrow. He whose servant you are, knows the end from the beginning. The events of tomorrow, which are hidden from your view, are open to the eyes of Him who is omnipotent.
When we take into our hands the management of things with which we have to do, and depend upon our own wisdom for success, we are taking a burden which God has not given us, and are trying to bear it without His aid. We are taking upon ourselves the responsibility that belongs to God, and thus are really putting ourselves in His place. We may well have anxiety and anticipate danger and loss, for it is certain to befall us.
But when we really believe that God loves us and means to do us good we shall cease to worry about the future. We shall trust God as a child trusts a loving parent. Then our troubles and torments will disappear, for our will is swallowed up in the will of God.
Christ has given us no promise of help in bearing today the burdens of tomorrow. He has said, "My grace is sufficient for thee" (2 Corinthians 12:9); but, like the manna given in the wilderness, His grace is bestowed daily, for the day's need. Like the hosts of Israel in their pilgrim life, we may find morning by morning the bread of heaven for the day's supply.
One day alone is ours; and, during this day, we are to live for God. For this one day we are to place in the hand of Christ, in solemn service, all our purposes and plans, casting all our care upon Him, for He careth for us. "I know the thoughts that I think toward you, saith the Lord, thoughts of peace, and not of evil, to give you an expected end." "In returning and rest shall ye be saved; in quietness and in confidence shall be your strength." Jeremiah 29:11, Isaiah 30:15.
If you will seek the Lord and be converted every day; if you will of your own spiritual choice be free and joyous in God; if with gladsome consent of heart to His gracious call you come wearing the yoke of Christ,— the yoke of obedience and service,—all your murmurings will be stilled, all your difficulties will be removed, all the perplexing problems that now confront you will be solved.
——————————————————
The problem is that in order to have such an encouraging experience, you need to be one of God's little children who, in spite of the daily troubles and trials, is each day trying to live the life of an overcomer.
And that is what this little book is all about: to help you live such a life.
Eight special promises —
The fact that you can resist temptation and overcome sin in your life is solidly Biblical. God wants you to enter this experience. His holy Word, the Bible, has abundant promises for those who will enter this experience. Here are several of them:
——————————————————
"To him that overcometh will I give to eat of the tree of life, which is in the midst of the paradise of God."—Revelation 2:7.
"He that overcometh shall not be hurt of the second death."—Revelation 2:11.
"To him that overcometh will I give to eat of the hidden manna, and will give him a white stone, and in the stone a new name written, which no man knoweth saving he that receiveth it."—Revelation 2:17.
"He that overcometh, and keepeth My works unto the end, to him will I give power over the nations."—Revelation 2:26.
"He that overcometh, the same shall be clothed in white raiment; and I will not blot out his name out of the book of life, but I will confess his name before My Father, and before His angels."—Revelation 3:5.
"Him that overcometh will I make a pillar in the temple of my God, and he shall go no more out: and I will write upon him the name of My God, and the name of the city of My God, which is new Jerusalem, which cometh down out of heaven from My God: and I will write upon him My new name."— Revelation 3:12.
"To him that overcometh will I grant to sit with me in My throne, even as I also overcame, and am set down with My Father in His throne."—Revelation 3:21.
"He that overcometh shall inherit all things; and I will be his God, and he shall be My son."— Revelation 21:7.
——————————————————
This is an experience that each of us wants! We do not want to miss out on being able to enter through those pearly gates, into the City of God, and living forever with Jesus!
"In God will I praise His Word . . in God I have put my trust: I will not be afraid what man can do unto me." —Psalm 56:10-11
"I will look unto the Lord, I will wait for the God of my salvation; my God will hear me." —Micah 7:7
"But know that the Lord hath set apart him that is godly for Himself: the Lord will hear when I call unto Him." —Psalm 4:3